As I am writing I hear my daughter crying, fighting her nap. She has hit the defiant stage early. Even though she is a bit go go go she is also the sweetest, smart and beautiful little girls. Her personality is much bigger than her 22 pounds!
We love our little Lolo! I forgot to post photos of her birthday so I will do so now! Only a month and a few days late. :-)
She loves to share.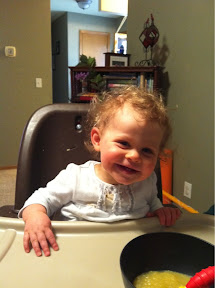 Look at all of that curly hair!
There you go! Lolo is 13 months old. Time flies when you are a mum!
- Posted using BlogPress from my iPhone